Warning!
Today's sassy post is a super lighthearted one about fashion.
In short, don't take it too seriously.
I'm not. But I am on trend.
I recently read through the entertainment news world that gas-station sunglasses have become a big deal this summer.
Turns out a number of high-profile celebs, including Brittany Spears, have been making this trend fashionable.
Go figure.
I found that rather amusing, until I thought I lost one of my favorite pairs of sunnies during the first day of a mini road-trip vaca in the Upper Peninsula of Michigan last week.
Can you say lots of lakes and trees and sunshine?
The pair I thought I lost were a John-Lennon style and my current favorite from the brand Quay Australia.
Truth be told, I love Quay sunglasses.
Stylish.
Well made.
Great fit.
Surprisingly affordable.
In fact, I've got more than one pair in different styles.
But for a reason I'm still unsure about, I have fallen in love with these smaller Quays.
I think they make me feel a little extra hip.
Imagine.
Well, maybe not.
But I do like how well they fit and hug my face.
Instead of trying to hide indoors behind big rims like Mama Kardashian, these seem more practical, and flattering.
At least, I think so.
So, when I retraced my steps after thinking I'd lost them running from one must-see tourist site to another, I just decided I could reorder them.
I'd made peace with the loss.
Problem was I only brought one pair on this trip, and I knew there was no way I could go bare faced during the brightest July travel and beach days.
Summer is always too bright for me.
And that's when I ended up in a local supermarket buying bananas and bottled water and scoring myself a pair of $19.99 aviator style sunnies from a brand I'd never heard of before.
iGoggs.
Cute branding.
After I bought them, my husband found my beloved Quays hiding under my seat when he was cleaning tons of beach sand out of our SUV.
Of course he did.
Good hubby!
To my surprise, both pairs fit and look great!
But now I can't decide which pair I like better.
I've posted photos of me in them here, plus a shot of my sweet pair of designor YSL sunglasses I scored in a vintage-store steal a while back.
Those I'll pass down to my daughter.
Eventually.
But for now, which pair do you think looks more flattering?
The Quays or the gas-station specs?
Add your fashion take in the comments below and be sure to tell me what your favorite sunnies are, too.
Add a photo if the sunglass spirit moves you.
I'd love to check out your favorite Monday Sassy Fashionista shades.
But remember, this isn't world peace we're dealing with here.
Just sunglasses.
From your friendly local supermarket and beyond.
Shop local, people.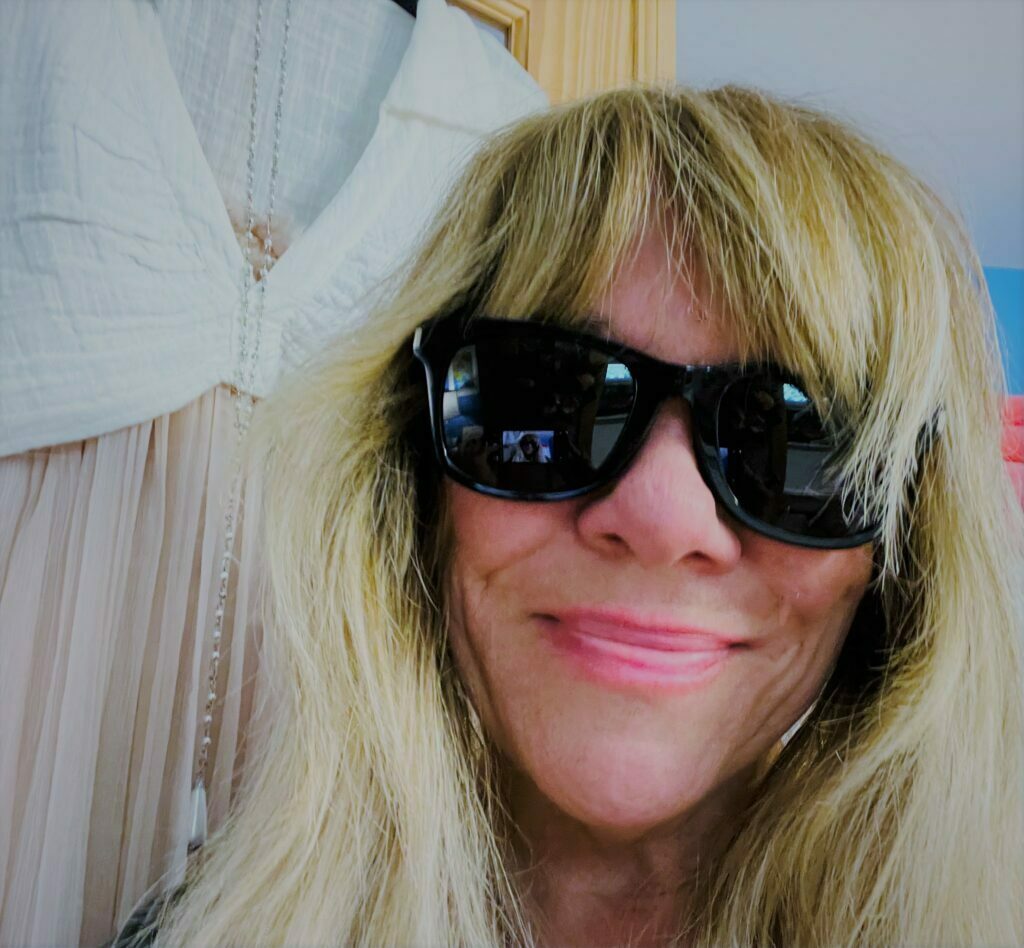 Reminder: As always, my fashion rants are my own.