I admit I used to make fun of Crocs.
Not the one's with big teeth quick to strike unsuspecting prey.
But the shoes.
Shoes that when they first came on the scene years ago were everywhere.
Except on my feet.
I thought they were cute on little kids.
But on adults? With socks?
Ugh.
I found them ugly, loud and as far from stylish as a shoe could possibly be.
And made of heavy plastic-like material to boot.
But then, like Birkenstocks, something began to change.
Style.
Over the years, Crocs suddenly started becoming cool, for all the right reasons.
Fit. Cost. Comfort. Easy to clean.
Interesting family photos.
So, this past weekend, when I was making a quick stroll through a local T.J. Maxx to see if I could find any gems on clearance, I bought a pair.
One simply black pair of crocs discovered in the shoe aisle.
Seemingly cast away by someone that had some last-minute hesitation about their choice.
Like I used to have.
So, I tried them on. Size 8. They fit perfectly. Half size smaller than my norm.
The price was $16.99. Plus tax.
Pretty good deal for any shoe that's well constructed.
And these are.
What finally sold me on the shoes and caused me to go against my own former harsh Croc judgement (including of those that wear them proudly), was this.
When I water my flowers, I love to step in among the petals in the dirt, which means my feet usually get soaked, and dirty.
Because I'm often wearing more expensive Birkenstocks, that was becoming a costly problem.
These Crocs could serve as my gardening water shoes and hang out on the front porch.
No H2O harm done to them, and a pricey footwear problem solved.
I tossed them into my cart with several other sweet finds, like socks and underwear, jeans, and Halloween kitchen towels with dogs and cats sporting orange bandanas.
My grandkids are going to love those!
Truth is, it's unlikely you'll ever see me in public wearing these Crocs instead of my beloved Birkies.
But who knows?
I never guessed I would buy a pair at all.
Now, just look at me.
A proud, Sassy Fashionista sporting new Crocs.
They are actually pretty cute, especially with that little movable logo attached to them that I can spin around.
Croc's version of shoe bling.
Plus, they massage my feet when I walk, and I'm all in for that!
I reminded myself that I really shouldn't make fun of Crocs anymore, or the people wearing them.
Because I might just end up having to admit I was in the fashion wrong.
Not ready to go quite that far, yet…
I might have to get another pair.
In pink or blue or aqua.
Waterproof summer garden vibe.
Turns out that Crocs and water go perfectly together.
How about you?
Are you a fan of Crocs?
Why or why not?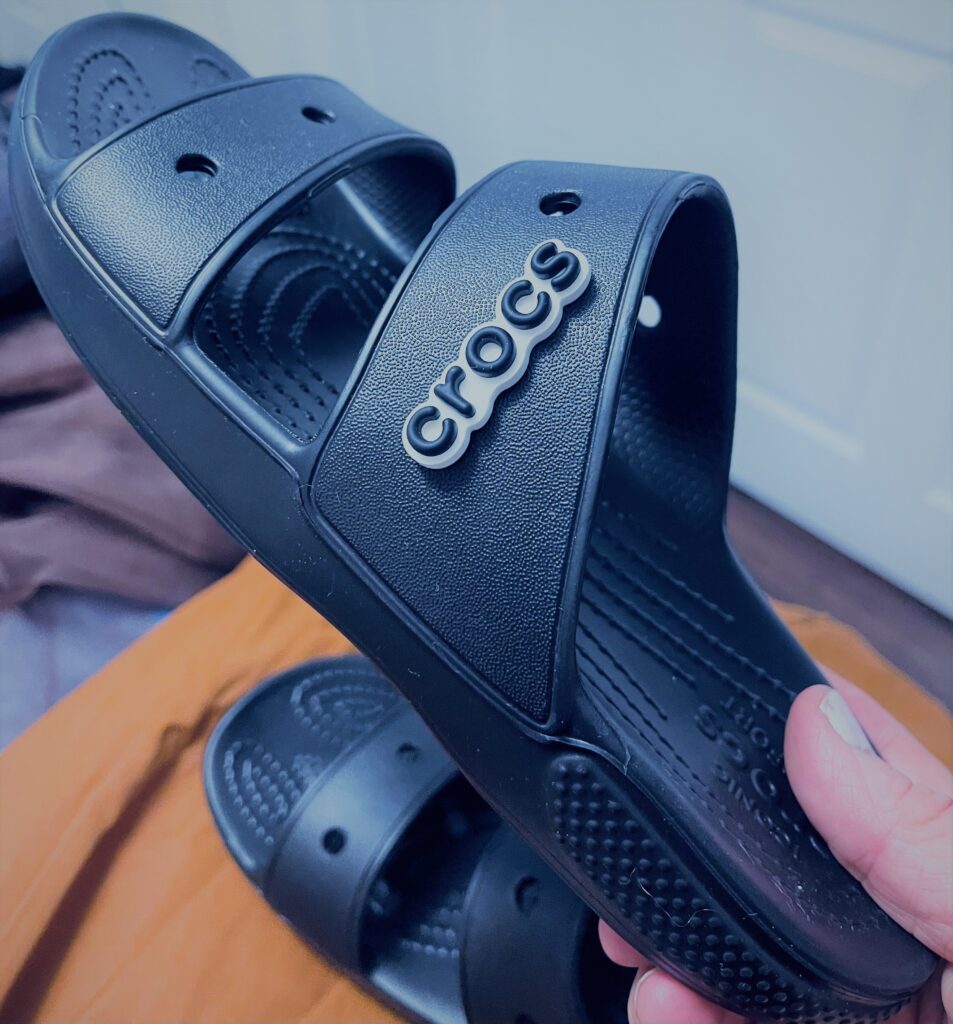 As aways, this fashion rant is my own.