I admit I'm not the biggest fan of jeans.
The older I get, the more I find traditional jeans to be too uncomfortable, especially in the mid-section area. Know what I mean?
Want a little bit of give there, especially after eating a good meal.
For starters, I rarely do jeans today that have no stretch, and I definitely don't buy them anymore.
But last week, I came across a pair of Osaka jeans with rave reviews online at Free People that I decided to give a chance.
I liked how they looked.
I liked their vintage flare and fabric and unusual blue–with-w-dash-of-green coloring.
I loved the mid-rise fit and slightly oversized fit.
Love the good reviews.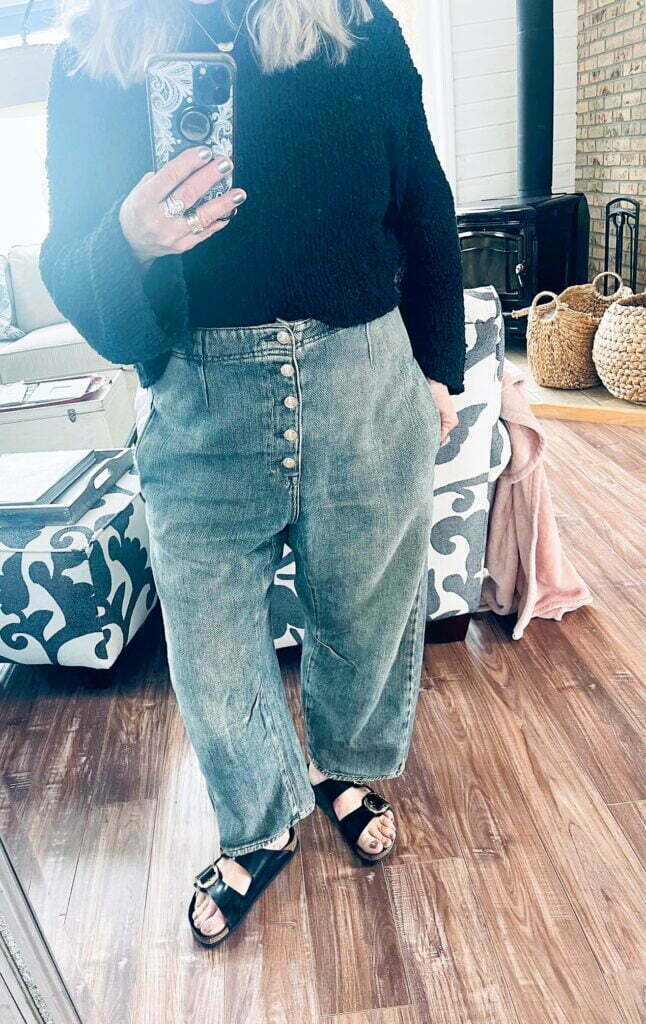 I loved the buttons and the pockets and the price of $98.
Too many jeans cost way too much these days and I chose this pair over another name-brand pair that I really loved that cost $248. You read that right.
No way I'm wasting that kind of money on jeans, especially when there are so many cute jeans out there that are much more reasonably priced.
So, I took a chance on these $98 jeans and I'm so glad I did. They meet all my fit and fashion expectations.
They fit me like a comfy glove, including in the length, a real problem for us more petite gals.
I like them so much that I ordered another pair in more traditional jean coloring.
Can't wait to wear those on repeat, too.
In the end, I bought two pairs of jeans for almost the cost of one pair of that other brand.
My decision made me feel like a Sassy Fashionista! Smart one, too. With a little change left to boot. Jean happy dance!
How about you? Are jeans still a staple in your wardrobe?